Hello lovelies
It's that time of year again! One of my favourite things about the festive season is Advent Calendars. Opening those little doors to reveal a new treat every day is a great way to brighten up those cold Winter mornings.
For the perfect countdown to Christmas, here is a round-up of my favourite advent calendars so far.
The Bomb Advent Calendar Gift Pack -£24.99
There is nothing better than a hot bath on a cold winter's day, and with this Bomb Advent Calendar, you get 24 days of gorgeously-scented bath bombs and soaps, that will have you smelling amazing this Christmas season!
12 Days Of Beauty Calendar by Feelunique – £35
You will be looking unique and certainly feeling it too with this amazing calendar! Feelunique have included a bit of everything in their festive offering, from NYX Soft Matte Lip Cream, to Elizabeth Arden's Skin Renewal Booster that'll keep your skin healthy and glowing over the party season.
Liz Earle The Twelve Days of Christmas Beauty Advent Calendar – £66 
Treat yourself to a mini spa experience every day with invigorating treatment masks, soothing eye lotions and your own set of cotton cleansers and headbands – such lovely little touches.
Mad Beauty's 12 Days of Body and Bath – £10.99
 A fab one for teens here. Everything you need to spoil your skin with a purse-friendly price tag – bath salts, hand cream, body wash, and lip balms; Mad Beauty's calendar will have you looking and feeling gorgeous.
Advent calendar by Hama Beads – £15.90
Obviously, I couldn't leave an arts and crafts advent calendar out of the list. This is such a cute, creative one for the kids where they can create 24 different patterns of Hama beads, and use them to decorate the house for Christmas. And of course, this advent calendar gives parents the chance to release their inner child – even if it is just for one day!
Mad Beauty's Beauty Advent Calendar -£19.99
This is such a perfect advent calendar for young girls who are just discovering makeup (much like my daughter Honey). It's really cute and super girly with lip glosses, eye shadows, blushers, and nail polishes as well as application brushes, and nail accessories.
Rituals Exclusive Advent Calendar – £59.50
Behind each door of the Exclusive Advent Calendar is a luxury Ritual gift to soothe body and soul. This advent calendar reminds you to take a moment for yourself everyday with 24 gorgeous favourites from the Rituals range.
Soap and Glory It's a Calendar Girls – £40
With mini beauty treats behind every door, this advent calendar really does bring a smile to your face. There is such a great range of goodies from Shower Gel to Lipstick, Body Scrub to Mascara, it's really a treat to your entire body every day!
L'Occitane Classic Beauty Advent Calendar – £49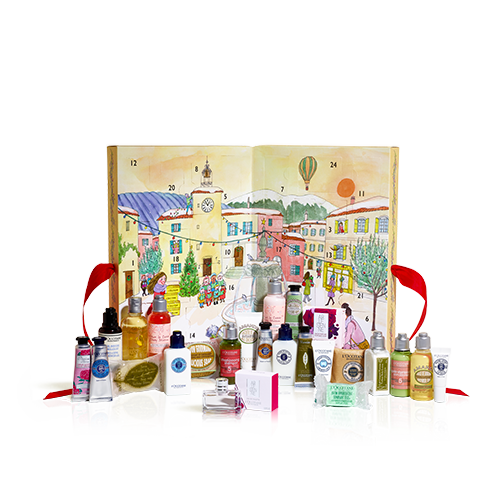 Indulge a loved one or treat yourself to a pre-Christmas gift with the L'OCCITANE Christmas Beauty Advent Calendar which has everything from shower gels, shampoos, soaps & eau de toilette. Illustrated by the renowned French artist Kanako, this Beauty Advent Calendar features 24 of L'Occitane's most popular products and is the ideal way to countdown to Christmas.
Nuxe Paris 10 Beauty Treasures – £49
Countdown the days til Christmas in style with this starry advent calendar and enjoy gorgeous Nuxe goodies like their moisturising Hand and Nail Cream, their nourishing Lip Balm, and their cleansing Makeup Removing Gel. Perfect for treating others, or be cheeky and keep it for yourself!
Tanya Burr 12 Sweet Days Beauty Calendar – £30.00
Perfect for teens and tweens obsessed with their YouTubers, this 12 day calendar includes a variety goodies from Beauty Guru Tanya Burr's cosmetic line. It includes limited edition eye shadows, lip glosses and nail varnishes, its spot-on for the girl who loves YouTube and makeup.
Molton Brown Cabinet of Scented Luxuries – £165
This incredible calendar is the ultimate treat for that special someone in your life who loves smelling great. The sweet 24 day packages include their signature body washes, lotions, hair care and everything in between. Its a definite festive treat!
Thortful Letterbox Friendly Advent Calendar – £12.99
This advent calendar is the perfect way to round up this post, as it's a great way to spread Christmas cheer by getting this lovely Thortful advent calendar – with chocolate behind every door – delivered to a loved one. With so many styles to choose from, this will definitely get everyone in the festive spirit.
I'll be posting plenty more festive posts really soon my loves, so keep an eye out for them, with some lovely goodies perfect for everyone in the family.
Until then, all my love
Gail xxx